For the fifth year in a row, The Bloody Great Committee celebrated International Women's Day by honouring the remarkable women in our circle. This year, more than 130 bloody great women were surprised by their loved ones, with the delivery of special sweet treat boxes. With a similar surprise also in store for the male champions of change in our midst, as well as some generous donations, almost $6,000 was raised for our bloody great cause!
"The safety of our patients, their families and everyone who supports us is paramount and in the context of the COVID-19 pandemic, we made the difficult decision to cancel our traditional International Women's Day Breakfast for the second year," says Susan MacGregor, Chair of The Bloody Great Committee.
"As always, our volunteers sprang into action and came up with yet another creative and inspiring idea to celebrate this important day on the annual calendar and provide another great opportunity for our supporters to get behind our work. We know it brought a smile to all those who were honoured with one of our boxes, filled with delicious treats!"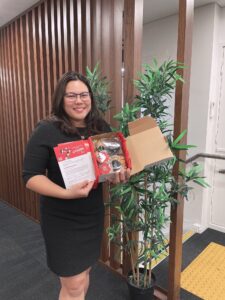 "Thank you so much for the gift box. It's beautiful and the best part is that it's for a bloody great cause! Made my day. :)"
Annabel Woo, Raine and Horne Concord/Strathfield
"My champion of change – hubby Nick Brennan who does the lion share of childcare in our house and equal housework, is a huge supporter of equal parental leave and makes me a coffee on my way to work every morning!"
Dr Nicole Wong Doo, Haematologist at Concord Hospital.
This year's celebration followed the launch in 2021 of our inaugural International Women's Day Honour Roll where 120 bloody great women were nominated to be listed on the Roll, whilst supporting our fundraising at the same time.
"We know the Honour Roll enabled the efforts and contributions of so many amazing women to be celebrated and acknowledged and it brought so much joy and excitement last year. Along with a fantastic raffle and generous donations, almost $20,000 was raised from our 2021 International Women's Day celebrations.
"The strong support that followed for our 2022 IWD celebrations was equally as humbling and we sincerely thank everyone who got behind us once again to ensure that The Bloody Great Committee could do what it does best – create memorable and unique experiences that the community enjoys and continue to raise funds for our cause, even when times are challenging" says Susan.
Since its inception in 2013, The Bloody Great Committee has raised almost $800,000 for the world-leading, blood cancer clinical trials at Concord Hospital, giving more patients a greater hope for a cure and a better quality of life.
The more funds raised, the more patients who can participate in these renowned clinical trials and have access to life saving, innovative, medicines, long before they are publicly available.
Our sincere thanks to our International Women's Day 2022 Sponsors for their ongoing support:
Coming up – A Bloody Great Night Out!
After a COVID-19 hiatus in 2021, our signature fundraising event, held traditionally every two years, is back in 2022! Save the date for a bloody great time – Friday 21 October at Le Montage.